Credits
— Dedication —
The film is humbly dedicated at the Lotus Feet of Jagadguru Sri Sacchidananda Shivabhinava Narasimha Bharati Mahaswamiji – the saint who rediscovered Kalady.
Blessing, inspiration & guidance
The film is blessed by the present Jagadguru Shankaracharya of Sringeri, His Holiness Sri Bharati Tirtha Mahaswamiji. It is inspired by the Mahaswamiji's dedication to Jagadguru Sri Adi Shankaracharya.
— Production —
Produced by Sri Shankara Advaita Research Centre, Sringeri
Sri Shankara Advaita Research Centre is located at Sringeri in the Dakshinamnaya Sri Sharada Peehtam established by Jagadguru Sri Adi Shankaracharya. Established in 2001, the Research Centre primarily caters towards publishing rare and hitherto unpublished works in Sanskrit literature, in particular Advaita Vedanta. The Centre coordinates the overall publication activities of the Peetham along with Sri Vidya Bharati Press at Bangalore, the in-house publication wing of the Peetham. The Research Centre also houses the "Saraswati Bhandara", the ten century old library of the Peetham. The library has a rich collection of Sanskrit texts in the form of manuscripts and printed books. The Centre has also been bringing out a video series of benedictory discourses of the present Jagadguru Shankaracharya of Sringeri, Sri Bharati Tirtha Mahaswamiji. The official website of Sringeri Sharada Peetham has been developed and is maintained by the Research Centre.
If you are interested in participating in the activities of the centre, please correspond to the following email address: info@sringeri.net
Concept

Padmasri Dr. V.R. Gowrishankar
Dr. V R Gowrishankar, the CEO and Administrator of Sri Sharada Peetham at Sringeri is the dynamic force behind the activities of the Peetham. Powered solely by his dedication to the Sringeri Shankaracharyas, Dr. Gowrishankar, who has been serving the Peetham for a quarter of a century, has carried forward the ancient Peetham into the 21st century with a great sense of purpose and vigour. With a strong engineering background and a Diploma in Management from the Indian Institute of Science, he manages the Peetham's activities in his own inimitable style. He is responsible for effecting the modernization of the Peetham in all respects and in expanding its areas of service to cater to the social, educational and health needs of the society in the present times. He has received many awards and citations for his yeoman service – from the title of "Guru Seva Dhurina" from the Sringeri Shankaracharya Himself to the prestigious civilian honour of "Padmashri" (in the field of social work) awarded by the Government of India. He is also the Director of Sri Shankara Advaita Research Centre.
Written by
K. Anand & Rajesh Krishnan
Directed by
Rajesh Krishnan, K. Anand & S. Thyagarajan
Photgraphed & edited by
Rajesh Krishnan
K. Anand, S. Thyagarajan and Rajesh Krishnan are part of the volunteer staff at the Sri Shankara Advaita Research Centre (SARC). They come to SARC with prior professional experience in computer technology and software consulting. Under the guidance of SARC's Director, Dr. V.R. Gowrishankar, Anand and Thyagarajan are responsible for the overall activities of the centre. They are also pursuing Vedic and Sanskrit studies at the Sringeri Patashala. Rajesh works part-time and leads the centre's efforts in the areas of Manuscript Digitization and Multi-media.
— Narration —
Harish Bhimani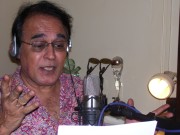 Known widely for his voice overs in B. R. Chopra's Mahabharata and other documentaries, theatrical films, commercials etc., Harish Bhimani is widely acknowledged as the 'Most popular voice in India'. With an experience of well over twenty years, Harish Bhimani has the distinguished ability to speak natively in English, Hindi, Gujarati, Sanskrit and Urdu tounges. The powerful diction of the documentary has been recorded by Harish Bhimani.
— Music —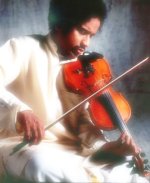 Dr. L. Subramaniam is an acclaimed Indian violinist, composer and conductor, trained in the classical Carnatic music tradition. He is renowned for his virtuoso playing techniques and compositions in orchestral fusion. He is well-known for his interest and performances in a variety of music forms. He has established himself as a force that is strongly Indian, but universal in nature and approach. More information on Dr. L. Subramaniam can be obtained from his official website.
The wandering saint album, a part of which is featured in the film is available at Rhythymhouse Online Store.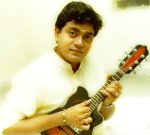 Sri U. Shrinivas is a Indian mandolin player of the Carnatic musical tradition of Southern India. A child prodigy, Shrinivas adapted the mandolin, an instrument unsuited to classical Indian music, to blend with Carnatic music and has inspired a number of youngsters. An extraordinary yet humble musician, he has enthralled audiences worldwide with his soulful renderings of the Carnatic keertanas. He has also extensively collaborated in the area of Indo-Western fusion music with world renowned artists like Pandit Zakir Hussain and John McLaughlin. More information on Sri U. Shrinivas can be obtained from his official website.
The Samjanitha album, a part of which is featured in the film is available available at Amazon.com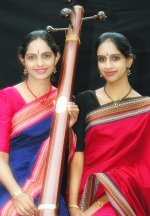 Highly-rated violinists for more than a decade, the sister duo of Ranjani Gayatri became even more popular when they became classical Carnatic vocalists. Their music, imbued with a deep and abiding classicism, has been described as an exhilarating blend of vitality, melody and emotion. Known for their flawless and effortless singing, Ranjani and Gayatri are one of today's most sought after Carnatic vocalists. More information on Ranjani & Gayatri can be obtained from their official website.
R. K. Shriramkumar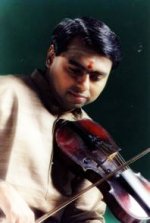 R.K.Shriramkumar hails from the Rudrapatnam family of musicians virtuoso violinist and accompanist of the Carnatic Music. He is considered as one of the most knowledgeable musician amongst the current generation. He has given many lecture-demonstrations in India and USA. He has also set to tune a number of compositions of the various Jagadgurus of Sri Sharada Peetham, Sringeri.
Sringeri Sisters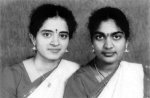 Many artistes enjoy commercial success. However, there are a rare few who are blessed to deliver the compositions of a great Saint and Seer to the world. Sringeri Sisters – Smt. Sharada Ramanan, Smt. Sreelakshmi and Kum. Bharati – have enjoyed this privilege for almost a decade now. With the blessings of the Jagadguru Shankaracharya of the Sringeri Sharada Peetham – Sri Bharati Tirtha Mahaswamiji – they have rendered several hymns and compositions of the current Jagadguru and the previous Jagadgurus of Sringeri. Their high proficiency in Sanskrit allows them to render the compositions with accurate pronunciations and intonations. And, their ardent devotion to the Jagadguru laces every note with spiritual vibrancy and energy. Smt. Sharada Ramanan is also adept at composing music for Stotras and Hymns. The "Jagadguru Shankaracharya Ki Bolo" Bhajan that is featured in the film was set to music and rendered by her.
Two young sisters – Kum. K.S. Sharada and Kum. K.S. Srilakshmi – are being mentored by the Sringeri Sisters to follow in their footsteps. They have also rendered a Hymn for this film composed by the current Jagadguru of Sringeri.
— Original Paintings —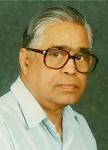 Born and brought up in South India, Venkateswaran graduated in 1951, from Madras University. Even during school days he obtained recognition for his portraits of Royalty.
Venkateswaran has participated in various group shows and solo shows in Bangalore and Mumbai. He served as Honorary Secretary in the well known Art Society of India, Mumbai. His drawings on scratchboard bring out the texture and sharp definition - especially of architectural subjects. Venkateswaran is also a talented digital artist with flair for two dimensional and three dimensional digital art. He is also an expert in re-touching old and damaged archival photographs using advanced software.
As an ardent devotee of the Jagadgurus of the Sringeri Sharada Peetham, with a rich family tradition of devotion and faith towards the Sringeri Jagadgurus and Sri Sharadamba, K. K. Venkateswaran has drawn many life-size portraits of the Jagadgurus and Sharadamba of Sringeri. Many paintings drawn by Sri K. K. Venkateswaran as well as archival photographs, re-touched and digitally improved by him have been used in this film.
More information about K.K. Venkateswaran can be had from his official website http://www.kkvstudio.com.
Sukumaran
Sri Sukumar is a gifted artist who has been associated with the Sringeri Sharada Peetham since 1980. He lives in a town very close to Kalady, Kerala. His paintings depicting the life of Sri Shankaracharya are on display in a special hall in Sringeri for several decades now. He has also painted realistic portraits of the Jagadgurus of Sringeri. He has received the highest blessings of the Sringeri Jagadgurus and continues to be closely associated with the Peetham. Many of his paintings of Sri Shankaracharya's life have been used in the film.
— Animation —
Chennai Animation Studio specialises in 2D/3D animation and digital film making.
Animation Consultants: Sri A S Krishna Swamy, Mumbai and Sri Gokula Krishnan, Chief Technological Officer, Chennai Animation Studio
Certain animations in the film have been indigenously developed at Sri Shankara Advaita Research Centre
— Audio —
Michael Gray, San Francisco, USA

Re-recording Engineer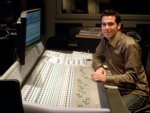 Michael graduated from University of California at Santa Cruz with a Bachelors of Arts in Classical Music. He continued his passion of sound to Pyramind, school of advanced digital audio production, where he learned the techniques of audio post production. He started Afloat Productions as a premier audio facility, for independent film productions.